Ex-Microsoft boss Steve Ballmer offers money bet - would you take it?
In the US Congress, plans are growing to force the big tech companies to compete fairly. According to an investigation report, a break-up of "certain dominant platforms" is even discussed. Ex-Microsoft CEO Steve Ballmer has now commented on it.
Steve Ballmer believes that despite US government initiatives, big tech will not be smashed. Ballmer, who led Microsoft in the cartel process at the beginning of the millennium together with Bill Gates, said: "If I were in the shoes of these guys, I would have said, 'Come on, let's sit down and get it over with, calm us down, so that we know what we can do '. "

Ballmer would even bet money that big tech wouldn't be smashed. Especially since, according to Ballmer, it makes no sense to lump all four tech giants into one basket. He literally referred to this as "theater". Ballmer went on to say, "When we went through our antitrust issues in the early 2000s, we found that you can do things that are 100 percent lawful, but once someone thinks you are a monopoly, it all helps you marginally."

THE SHAREHOLDER recommends investors to take the antitrust proceedings against Big Tech calmly. Experience shows that such proceedings can take a very long time, if they come about at all. In addition, a possible break-up could even play into the hands of the shareholders. Instead of one share, you could then receive several shares from very successful companies whose overall valuation on the stock exchange is likely to be higher than is currently the case.

Book tip: Hit Refresh
Who invented it? Microsoft. Long before the iPad or Kindle existed, Microsoft had already developed a tablet and an e-reader. Only: It had never used the products and fell behind against new innovators like Apple and Co. The solution: A complete overhaul - Microsoft developed a strategy that encompasses all areas of the company for the future handling of new technologies such as artificial intelligence and mixed reality. Using the example of Microsoft, "Hit Refresh" shows how empathy and energy can be used to get the best out of the possibilities of technical progress. Nadella connects the whole thing with his own fascinating life story and world of thoughts.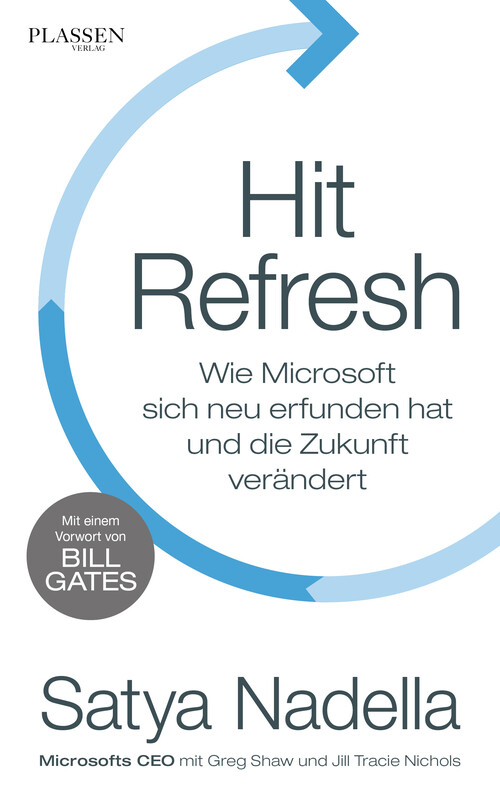 Authors: Nadella, Satya Nichols, Jill Tracie Shaw, Greg
Number of pages: 256
Release date: 05.03.2020
Format: Soft cover
ISBN: 978-3-86470-681-3