Wordpress is easy to learn
Learn how to use WordPress in just 10 days
Although there are many content management platforms on the internet, WordPress is definitely one of the most famous and popular, and there is a reason for this.
Even 26.4% of all websites on the internet use WordPress (source: w3techs) because of the many advantages it offers - it's free, easy to maintain, it's intuitive, it's used for different projects, and it's easy to use. A blog, a forum, a portfolio of work - WordPress can do it all!
In case you are just familiarizing yourself with this platform and are not sure where to start, we have prepared a few pieces of advice that can help you learn how to use WordPress in just 10 days.
---
How do you learn to work on the WordPress CMS platform:
Day 1: Find out as much as you can about the WordPress platform
Education is the pillar of any job (not necessarily formal education, of course). To work on this platform, you need to have a solid understanding of what it is for, how it works, what it looks like, and what is where. So it would be best to start with Wikipedia or the official website WordPress.org. If you are not proficient in the English language, you will be pleased to know that WordPress is also localized for the German language, or has been translated and adapted for German-speaking users.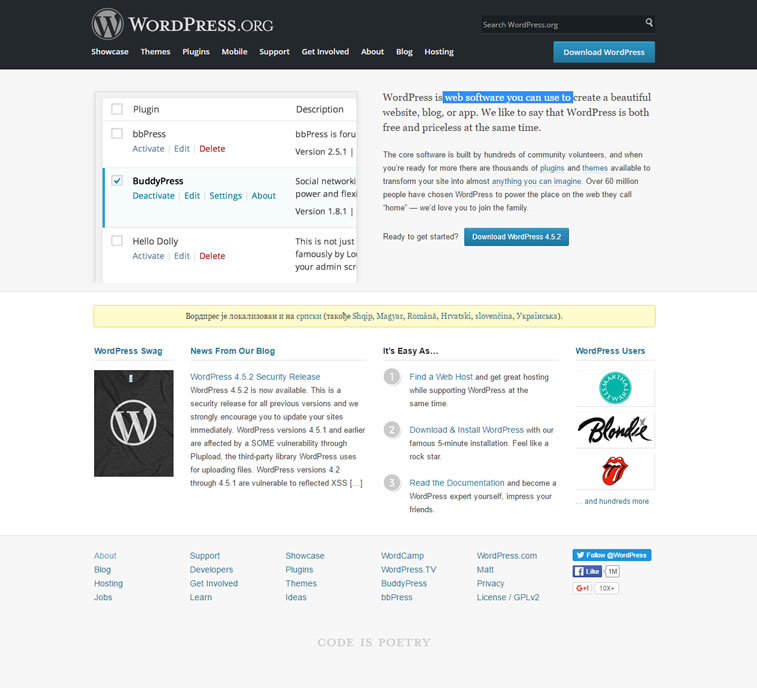 WordPress.org is the best source of information on this platform
While this is the first and most important step, it will most likely not take just a day (there will be too much new information at once). Hence, if you are a total beginner in web design and programming, it would be best to take your time. If you are not a beginner (if you have at least a basic understanding of HTML and CSS), you will find this information much quicker (although this need not be the case either).
So, the first step: learning. Remember that Google can give you the answers to many questions. So don't hesitate to ask Google anything that interests you. At the end of this text you can find a lot of useful information and advice about the WordPress platform (scroll down).
Day 2: Define the purpose of the website
The next step will influence the course of the whole process and is very simple: Determine what the website you are creating will be used for. Do you need a blog? A portfolio of selected work (photos, applications, etc.)? An online shop? Should the website add add-ons (apps) for online sales, such asWooCommerce to have? How would you like your publications to look like? Would you like to be integrated into social networks? Would you like your website to be easily visible on mobile devices? Of course you would, but don't bother learning everything at once. For the first time, you should also have these options in mind and know what you specifically need.
Day 3: Choose the name of the domain
Before we dive deeper into the waters of WordPress, we should pick the name of the domain your website will be on. There is a high probability that your desired domain is already occupied, but who knows - maybe not. You can check the availability of the domain on the Domainr website, which offers you this option. In this step you have to be tactical and very precise: choosing the name of your brand (brands), and even the key words (keywords), you can do later help with the ranking of the website. Make a note of the following, the domain must be clear and easy to remember.
Day 4: Choose a hosting provider
All websites on the Internet are hosted on a server. This will be your website too. That's why you have to find hosting. A good hosting provider needs to be reliable, reputable, and have no history of problems - if the server is down for a long period of time it can cause problems with the Website optimization produce. Local servers are a good solution for small and medium-sized businesses. Therefore, find out which options are available to you. If you want to focus on the foreign market, it is better to look for foreign servers. For starters, however, the free hosting offered by the WordPress.org website itself will be enough. Therefore one should also consider this possibility.
Day 5: Choose a topic
The look of the website is sometimes best to entrust to a topic. WordPress has a whole range of free and paid themes. It is your job to decide on the topic that meets your needs. If you want to showcase your portfolio or create an online store, we can recommend the excellent new Minelight theme.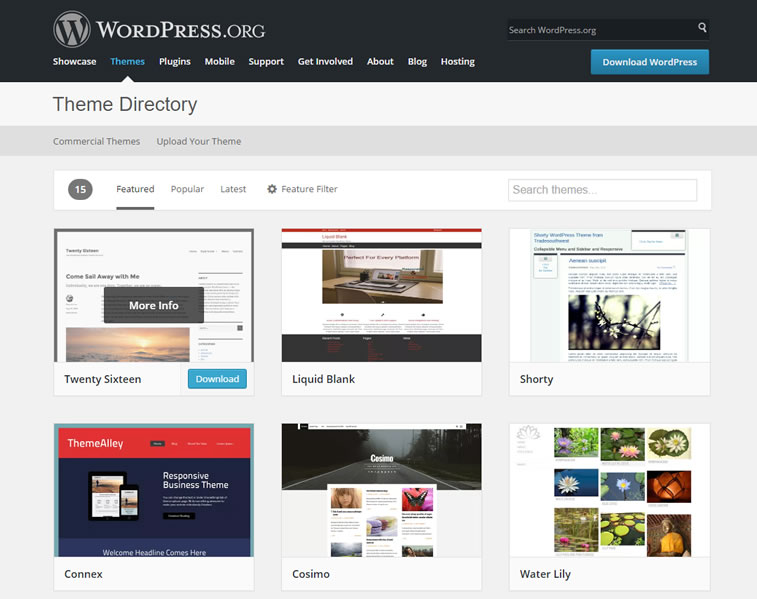 The most popular free themes at WordPress.org
Day 6: Install WordPress
Once you've chosen a theme, the next step is to install the platform. The sequence of steps outlined is very important as your choice of hosting provider can affect the installation. Many providers will send you installation instructions - the most common way to do this is to use aInstallation wizzards (Magician) who will lead you to your goal with just a few clicks. You will put your website in a root directory (so that you can easily find your users), write the name and description of the website (which can be changed later), then you create an administrator order, the passwords and they will adjust the control panel, etc.
Day 7: Write your first publication
You have the most difficult one behind you. Now you can move on to simpler things. From the control panel you can manage the content that will appear on your newly created website. You are not supposed to click on every button you see - be patient and learn to find your way systematically one after the other.
For starters, you can write your first blog post. As already said, WordPress is very intuitive and therefore its control panel will remind you a lot of text editing programs like Word or Google Documents. In the left menu is the option Posts - move the mouse over it and a menu will appear with the button "add new text " include. Click on this and fields for entering text will appear. Enter the title, the text (and photos or videos), add them to a category, then enter the names and keywords for an easier search. When you have arranged all of this, click the button "Publish" at.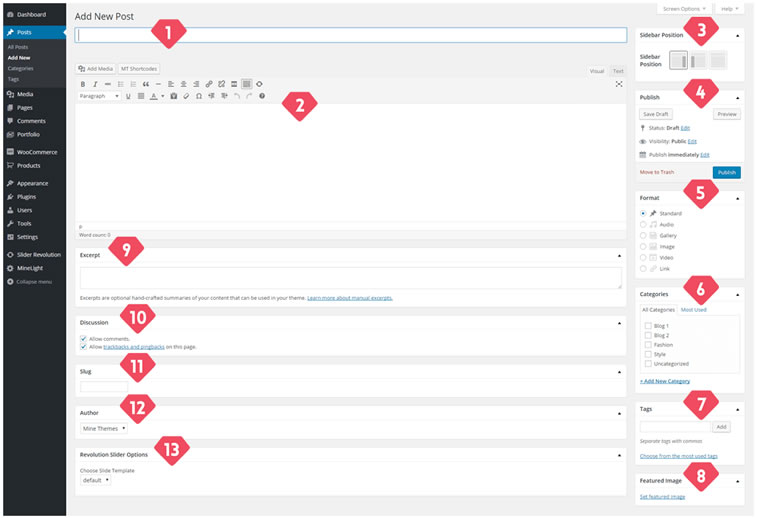 Appearance of a publication on the subject of Minelight: 1. Title, 2. Body of the text, 3. Position of the menu, 4. Publish, 5. Format, 6. Categories, 7. Description, 8. Separate image, 9. Section, 10 .Discusion, 11th suggestion of the URL, 12th author, 13th options of the slider Revolution.
Day 8: Create a website
The second thing that a website usually includes, besides posting on the blog, is the web pages. In contrast to the articles on the blog whose publication date and author are known, the pages are mostly static and their content is changed less often - without data on the author or other functionalities. To get started you need the "About me" or "About the author" or "Contact" page. The best part is that creating websites will be as easy as creating articles. Just move the mouse over the option "Pages" in the left menu of the control panel and when the menu appears click on "Add new". Add a title, the content and publish the page when you are sure everything is sorted out.
Day 9: Install the add-ons (plugins)
The advantage of WordPress is that you have some options by means of additions (eng.plugins) can be controlled, which may but do not have to be compatible with certain topics. For example, you can use the plugin to comment Disqus or if you want to optimize your website - use for example the suffix All-in-one SEO. Depending on your needs, you can choose the one that suits you best, on the official website: WordPress Plugins (also available in German).
Day 10: Clean up your website and keep working on it
The more time goes by, the more you will gain experience - whether through accidental discovery and learning, or through experience working on the WordPress platform. We believe this will be enough to get you started, but be aware that you cannot learn everything in one day and that you will most likely develop your skills every day.
---
Good luck at work!