How can great leaders help teams underperform?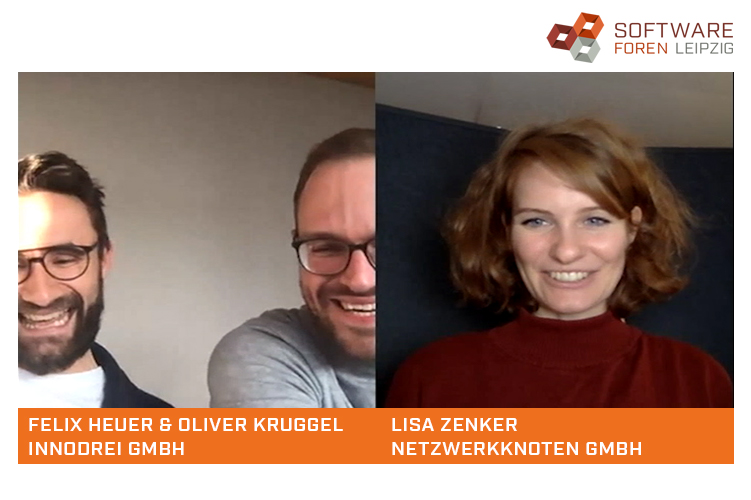 What is culture actually? And how can you describe it?
Behavioral patterns, rituals and communication are effects of culture and reveal what is important in an organization. In an interview with Felix Heuer and Oliver Kruggel, we got to the bottom of these questions.
Feel free to listen in here.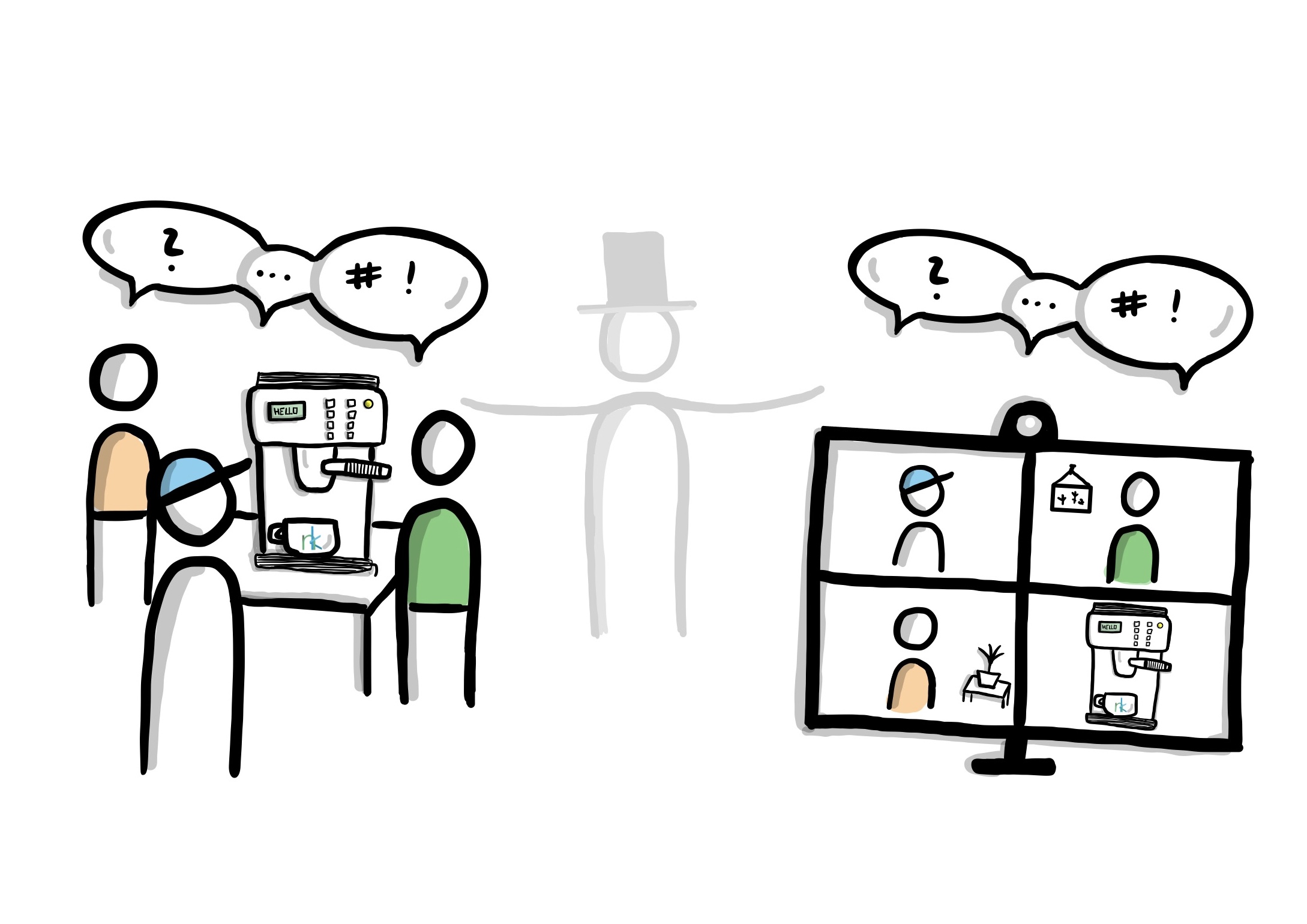 There was once…
For most of my working life, I went to work Monday through Friday, for example from 9:00 a.m. to 6:00 p.m. Only when the heating readers, larger parcels (time window similar to working hours 9 am–6pm) or any other exceptions have announced that I have made a special arrangement with my colleagues and have stayed at home for the announced period and have as much as possible from there worked. This model was not wanted by most employers and the slightest thought by the workforce in this direction was nipped in the bud. So I was satisfied with the status quo and simply enjoyed the few options that were available for working from home.
With the network node, this option was given from the start. On the one hand, because as consultants we often do not spend part of the week at home and on the other hand, because the well-being and preferences of the employees were also a well-known factor in the equation for greater satisfaction.
"And then Corona came"
"And then there was Corona" - probably one of the most frequently said sentences in 2020 - suddenly a large part of the organizational landscape was shaken up and the pivot to home office was not only possible, but also absolutely necessary for the employees. "In the interests of the employees", by the way, even before Corona, only now there were no more excuses (security, technology, mistrust, etc.).
Depending on who I ask, various advantages and disadvantages of working from home are listed. One point is mentioned very often by friends, colleagues, customers, etc.: The lack of interaction with colleagues at the coffee machine. What made the office environment special is the very structured setting for unstructured exchange. For example, many employees start working at around the same time, have similar lunch break times and the coffee machine is always in the same place. So there is a kind of structure to "run into" every now and then.
As understandable as this is, a new study suggests that one more point is crucial. While contact with colleagues, even if not in person and not at the coffee machine, usually takes place quite often, positive contact with the boss, manager or supervisor seems to be of particular importance for the morale of the employees.
Good managers have recognized that it is not enough to convert meetings into virtual meetings and to use all available online tools for structured exchange. They also try to enable unstructured exchange between employees in the virtual space and thus promote social capital. You can do this, for example, by allowing time for non-work-related meetings between employees, increasing the regularity of team meetings and choosing methods in these meetings that primarily promote unstructured exchange and bonds.
Social capital
Admittedly, it sounds like a rather technical term, but it illustrates very well the value of social structures in an organization. This refers to processes between people in a system that promote networks, an agreement of behavior and social trust and thus promote cooperation. A high level of social capital is visible when employees help each other, address problems proactively or misunderstandings can be discussed on a factual rather than a personal level.
In the study by VitalSmarts, a company for executive training, over 2,000 employees and over 200 executives were asked about the effects of moving to the home office due to the pandemic. More than half of the executives state that the culture of their companies has suffered as a result of the move to the home office. The researchers, in turn, identified a direct connection between the morale of employees and the behavior of precisely these managers.
So it is the behavior of the superiors that has a particular influence on social capital. More precisely, the efforts to maintain communication with your employees.
In companies in which supervisors take care of the cultivation of social capital, the employees have:
60% higher probability of responding quickly to inquiries from your colleagues
· 3 times higher probability of being benevolent with the mistakes of their colleagues
· 2 times more likely to proactively address problems instead of waiting to be told what to do
"All you have to do to damage social capital is do nothing"
Even the smallest interactions between superiors and their employees have a positive effect on morale. Some participants stated that just sending their superiors a questionnaire had a positive effect. Companies in which supervisors also inquired about their wellbeing, offered advice or virtual training, consistently had a higher level of morale among their employees.
The scientists concluded that it is not physical proximity, such as working together in an office, that is decisive for the morale of employees, but rather the ability of managers to promote social capital. And it seems that this can also be done in virtual space with the smallest of efforts.
I find these insights reassuring for the future. I am also convinced that investments in social capital also pay off economically. In the form of lower fluctuation, higher identification, higher well-being, more collaboration and the associated wealth of ideas.
What are your experiences? How do you strengthen your social capital?
Learn more about leadership in our online seminar "Introduction to the Systemic Agile Coach"
https: // lnkd .in / e m k 7 TEP
Sources:
https: // www .fast com pany .com / 9 0 5 7 9 9 6 9 / n o - o n e - i s - t a l k i n g - a b o u t - t h e - r e a l - p r o b l e m - w i t h - w o r k i n g - f r o m - home
https: // www .wefo rum .org / a g e n d a / 2 0 2 1/0 2 / b o s s e s - m o r a l e - h o m e - w o r k i n g - c o v id /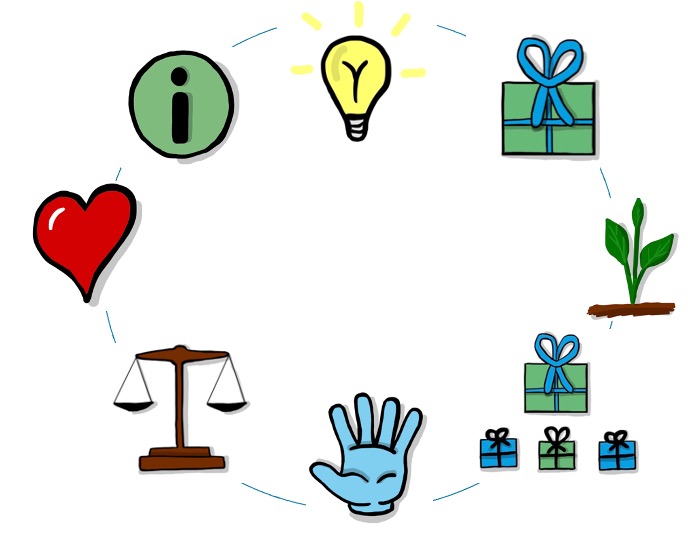 I'm sitting here in front of the virtual piece of paper and try to structure my thoughts in order to write a new blog post. In doing so, I notice how easily I let myself be distracted by the fragrant coffee, the desk that has long been sortable, or the sheer sight of the plant that has been trying to develop a leaf for two weeks. Why is it that this one task is actually difficult for me and I have to discipline myself to carry it out, even though I know that it makes sense, helps me to reflect and then I also experience a feeling of elation when I have completed it? While another task, for example preparing the next workshop at the customer's, is very easy to do and I totally forget that it would actually be good to take a lunch break in between.
Team roles and Team Management System ©
Meredith Belbin and the German colleagues Marc Tscheuner and Hartmut Wagner will probably answer this question as follows: Everyone has strengths and the associated natural talents - not only in topics and areas of life, but also in behavior and character traits. Both groups of authors have tried to cluster them into categories and thus to describe them in more detail.
These eight or nine descriptions can help you get to know yourself a little better and, if necessary, get new words and pictures. For a deeper insight, we recommend module 5 of the online seminar "Introduction to the Systemic Agile Coach".
It gets exciting again, however, when several people meet and work together in a team, for example. Then, under certain circumstances, such different and contradicting personalities, needs and working methods come together that misunderstandings, friction or even conflicts can arise. And this is where the approach of the team roles and their interaction possibilities come into play.
How does that look in practice?
We recently did an internal team role workshop with colleagues at the network node. The aim was to get to know exactly this difference, to recognize it and to use it for a better cooperation. Because just because of itme It takes energy to write a text, it doesn't have to be the same for everyone. And thus, with the knowledge of our individual team roles, we can distribute the tasks much better and use the individual strengths even better, because we focus on them all the time.
After answering questions about our preferences, behaviors and motivators, we positioned ourselves on a prepared Miroboard for the respective ostensibly pronounced team roles. Then we carried out a collegial reflection based on the collegial case consultation. This means that each colleague had 5 minutes to share their aha moments, surprises and explanations about their own results. Then the camera was switched off and the remaining colleagues were allowed to give 10 minutes of feedback. What do I find remarkable? What surprises me What else do I see? At the end of the time, the colleague had another chance to give feedback on the feedback they had heard before.
And what was the result?
It was a well-rounded day and every colleague was able to leave the workshop with a warm feeling and the desire for future collaboration. My findings from that day were as follows:
It's okay that I'm not equally good at everything.
I have all of the team role components in me, at least in the main.
Only in cooperation are all parts represented in their best form.
I have learned a lot from my colleagues and can now find completely different ratings for a behavior at one point or another.
And: Let's ask more often what we really know about each other.
If you also want to strengthen your strengths, feel free to contact us.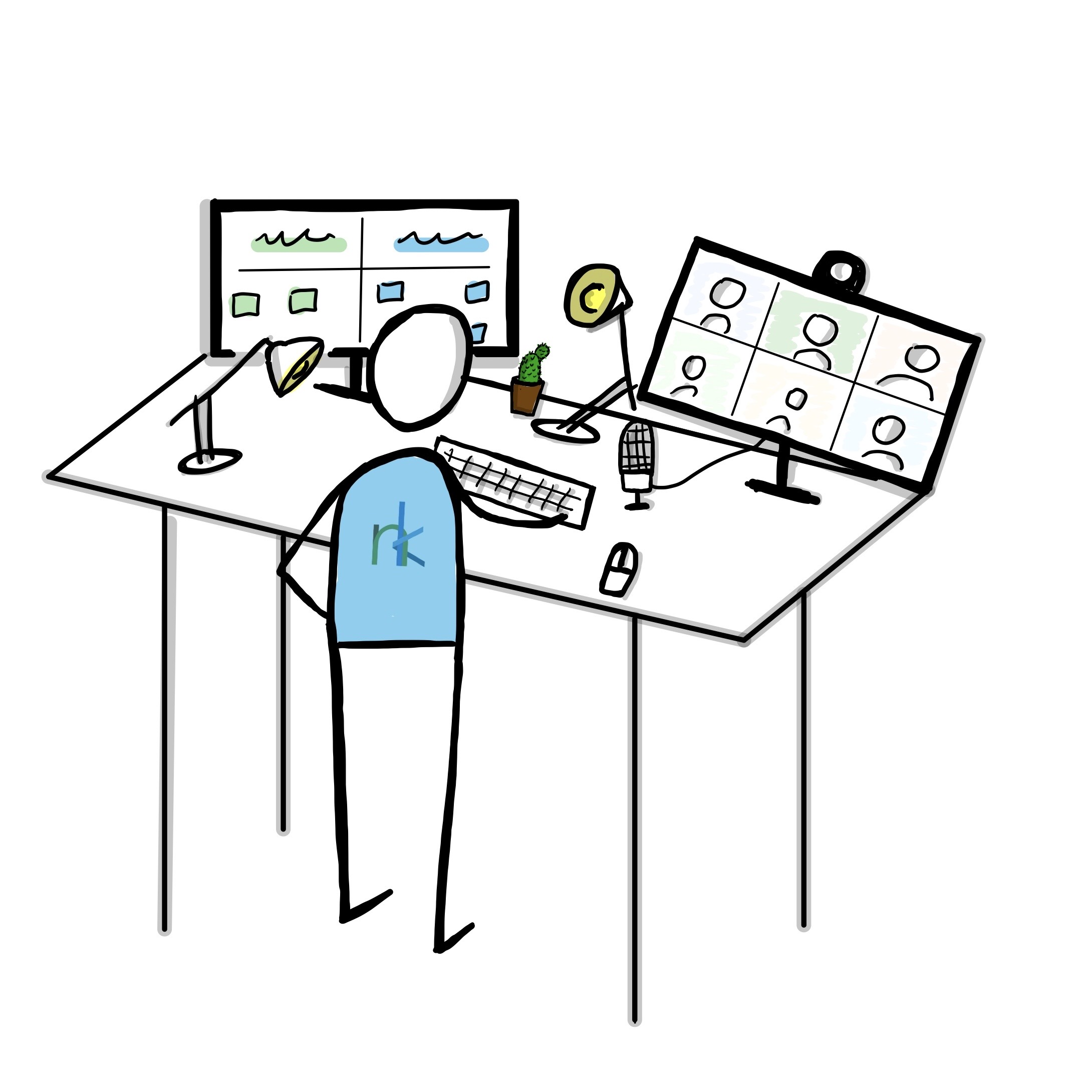 We work as agile coaches and organizational developers.
We prefer to work directly with our customers.
We work resource-oriented and multi-perspective.
We work on sustainable processes and structures.
In short, we really enjoy our work.
Our systemic attitude can be perfectly combined with agile values ​​and principles and our customers appreciate that.
Further training to become a systemic agile coach
In order to live the values ​​of openness and continuous improvement ourselves, we have decided to share our previous work results and experiences with you. This is how our specially designed face-to-face training program "Systemic Agile Coach" came about. In the "Systemic Agile Coach" training, we reflect on practical experience with you and share established methods and specialist knowledge from systemic consulting.
The changed market situation has also turned our day-to-day work upside down. Instead of working with our customers on site every day, as usual, this now takes place from home in the living room, kitchen or study.
And exactly at this point we asked ourselves the question: Couldn't we offer our advanced training and certain training or workshop formats as online seminars? Why should we do this? How does that work What do we start with?
Online seminars offer us the opportunity to share our approaches and parts of our method case with you asynchronously. This allows you to deal with our content independently and flexibly - no matter when and no matter from where.
With this offer, we want to offer our network, our colleagues, other agile coaches and organizational developers the opportunity to get to know our approach and parts of our method case and to integrate them into their own everyday life.
Online seminars "Introduction to the Systemic Agile Coach"
Therefore, with our first online seminar "Introduction to the Systemic Agile Coach", we have created the opportunity for you to get a first insight into the systemic and agile hand tools for leadership, team and organizational development.
Online seminar "Design remote decision-making"
Our second online seminar offers you a compact form of knowledge and recommendations for action to redesign your decision-making processes and to make them robust for the future of digital / hybrid work.
Because decisions have to be made by individuals, teams, departments and organizations on a daily basis. Some can be hit on the fly, while others require careful planning.
Careless decisions can mean bottlenecks, complications and frustration. So it is worthwhile in many ways to take a closer look at this process.
How do you say your experience, to what extent do you use online seminars for your further education? What is particularly important to you, what is particularly helpful?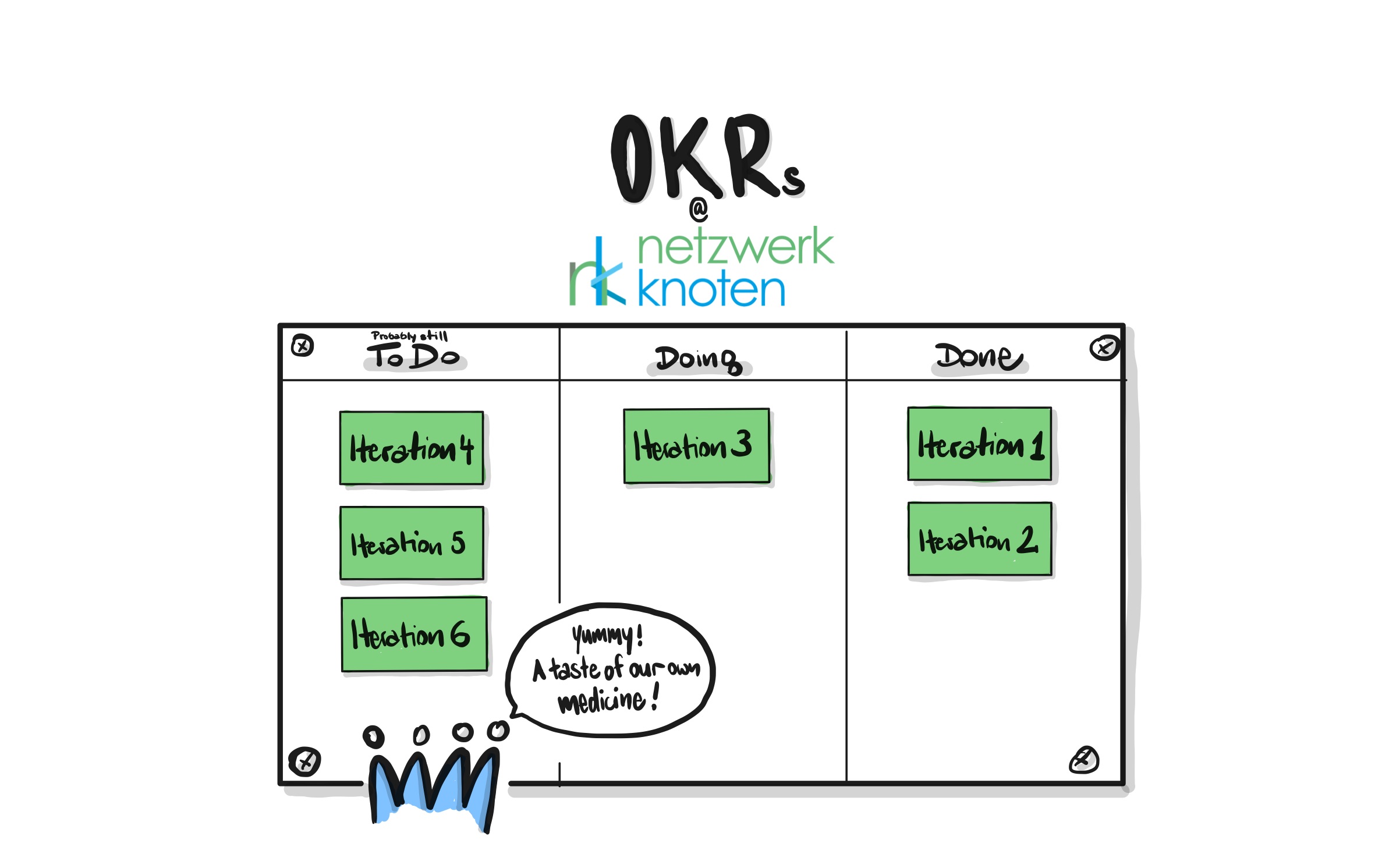 True to the motto "practice what you preach", we also decided in the first quarter of 2019 to make our strategic corporate goals visible, discussable and implementable in OKR format.
In this article I would like to share our development and experience in working with OKRs. The iterations described include several small loops in the form of reviews and retrospectives. For reasons of space, however, I am concentrating on the three biggest changes.
Iteration I.
Our history of OKRs began in the first quarter of 2019. Back then it was still haptic (still my favorite variant), simple and very classic with stickies on the office wall (see picture). We met there for the monthly team days and discussed the current state of affairs.
Then as now, the management developed annual objectives and key results and also named four quarterly objectives. In the next step, we put our heads together and developed key results that paid into our quarterly objectives and started to work on them. In this first and second iteration, our projects were also the key results at the same time. Depending on their interests, the people who wanted to work on a key result withdrew their responsibilities and started working in the respective teams.
For the sake of simplicity, we have given each annual target a meaningful heading so that it was easier to classify and communicate later.
It looked something like this:
Iteration II
CORONA. As for so many companies, the ongoing pandemic has meant a significant change in the way we work. We have always had the freedom to work in the home office and there were also remote team members in one or the other project. But the decision to work exclusively from home for security reasons also meant a change for us. The haptic OKR board in the office was obsolete, our monthly team days together, on site, in the office were also eliminated and between these, now remote appointments, we first had to groove ourselves to stay in good contact.
So what to do
We decided to move to Miro for the visualization of our work and to display our OKRs there from now on.
Due to the changed market situation, we not only had the exciting need to develop with us, we also had more time available.
At first we worked in the same mode of OKRs, only this time on a digital board. This picture shows the whole of 2020. The lower boxes represent the quarters including the quarterly objectives (stickies).
During the last (between) iterations in 2020, we noticed that our very ambitious projects could no longer be adequately mapped due to their complexity in the form used and that the rhythm of communication was no longer sufficient. The desire for more structure within the individual projects and the possibility of visualizing the progress of a project arose. It also became clear that we had to coordinate at shorter intervals.
Iteration III
We have become even more ambitious and have adjusted three (too many ?? !!) other things in addition to the sheer number of projects. In this iteration, we not only formulated objectives and key results per quarter, but also added the level of the associated projects. Due to the additional time we had available, our key results became larger and in order to make them more manageable, we then broken them down into smaller projects. Second, we decided to map the individual tasks per project. This preliminary construct was created for quarter 1.
On the left the respective annual objectives and key results (color-coded red, yellow, green, blue), on the right the associated Kanban boards.
Third, we decided to adjust the rhythm and the way we talk about our OKRs. Every two weeks we now go through our projects in rotation and give each other updates. In addition, if required, meetings are scheduled for coordination within the employees for each project.
We have improved the presentation of the progress of a project, but whether this type of visualization will prevail can be doubted. Even after quarter 1 of this year we will sit down again and make adjustments where they make sense for us.
Basics
I would be lying if I said that the current iteration was possible without sand in the gears, resistance, uncertainties and the like. would have expired. However, we have managed to address these things as well and recognize the current status for what it is, the current status. And now I'm only speaking for myself, especially in the last iteration and the difficulties associated with it, I have a lot learned about holding a process. It is very worthwhile to consider in advance at which points you can design a process together with the team and which levers you are not ready to change for the next test. Because these adjusting screws are fundamental for the change that one hopes for. Knowing that exactly these things will be put to the test again at a later point in time. The number and scope of the changes should also remain manageable.
Finally, it should be noted that things can crunch for us too when we make a major change. However, it is important or relaxing to understand that this change can be constantly adjusted and that nothing is carved in the famous stone.
In addition, we have once again learned how important it is to have an environment in which concerns, approval or irritations can be shared at an early stage.
How has your OKR process developed? What experiences do you have in iterative work?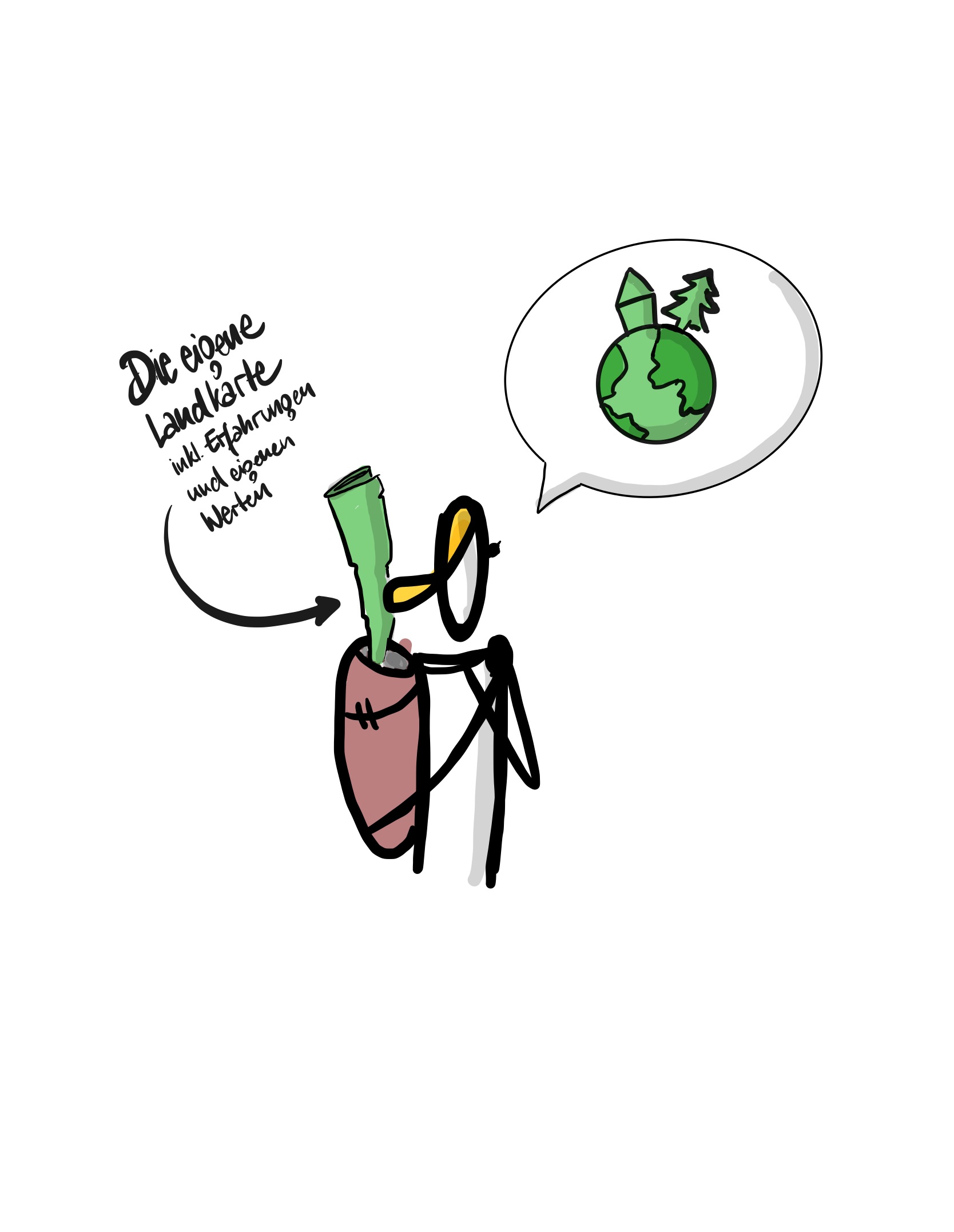 "Nobody informed me", "Nothing will change anyway" or "We used to do that, only nobody called it that" - certainly all known statements during a change process, be it a move to a new building , a migration to a different administration tool or a merger of two departments. But what is really behind it? Is it not wanting? Is it a change fatigue? Or are they just natural manifestations of your own value landscape?
What do values ​​do?
This is exactly the question I asked myself in the course of my last project and found an answer to it in the model of my own map of Constructivism. Everyone has their own perception of reality. Based on formative life events, experiences and knowledge of what I have acquired, I build forms of explanation and evaluation schemes with which I classify my sensory perceptions of the environment. Even with very similar résumés or areas of interest, the maps of each person look very individual. Depending on my classification and experience, I have a very special scope for behavior and reactions. This can of course change in the course of life. A three-year-old will react differently to her self when she was 14 or when she was 53. And yet part of the map will remain very similar for all three variants of this woman, namely the part of her values.
Me, my values ​​and the change
So they are so essential and formative in our own repertoire of thought patterns, behaviors and interpretive images that it is difficult for us to turn them off. This also means that in situations of instability, such as that usually caused by change, we act and react naturally according to our values. If, for example, the values ​​of connection and community are very important to me, then I will probably align myself very much with a group or feel the need to create a coalition. If the values ​​of security and stability are important to me, I will probably do a lot to keep what I know and love. If the values ​​of autonomy and freedom are very important to me, it will probably not be easy for me to follow guidelines or join a group movement. If the values ​​of further development and progress are very important to me, I will have great pleasure throwing familiar things overboard and welcoming many new things into my life.
Each of these value examples has its full right to exist and thus also the associated behavior. The question that arises for me here is how do we manage to be able to use precisely these behaviors in change processes in their potentials that they could create.
Values ​​in corporate culture
In my imagination, corporate culture describes, in its very essential characteristics, shared values ​​and the associated behavioral patterns and rituals that are established together. This can of course also be reflected in processes, structures, meetings and figures, but essentially these are ideas of what is important within the company and what we agree on. They are our guiding principles. For me it is a mutually dependent development: I bring my own ideas into the company and then negotiate to what extent I can find myself in the range of values ​​and how I can enrich or change what I have with my own values. So cultural development is a constant process.
What if a different target state is described from now on, as is usually the case in change processes? Well, depending on how many values ​​in the shared culture support change and how much change resources each individual employee has in store for their remaining treasure trove of values, this can be more fluid or even trigger a lot of irritation and, depending on preferences, resistance. The question arises here, how do we manage to establish a change process despite a target image that differs from today's one that enables every employee to follow the path - possibly also in other ways?
Value-oriented change processes
It may sound very soft and at first it doesn't have much to do with my otherwise celebrated measurable criteria in change processes, and yet I would like to venture the thesis that values ​​are a key factor for a successful transformation. To be aware of your own values, to have your own strengths and resources visible and then also to use the shared values ​​to integrate them into the target image, creates greater commitment and greater identification with the change. This in turn creates space for sustainable motivation. The sooner we find a way to always and constantly welcome them and to weave them into our value system, the more energy we have available for designing the content. Change is never over.
In our online seminar "Introduction to the Systemic Agile Coach" there is, among other things, the first module to get to know not only your own values, but also your own map.
---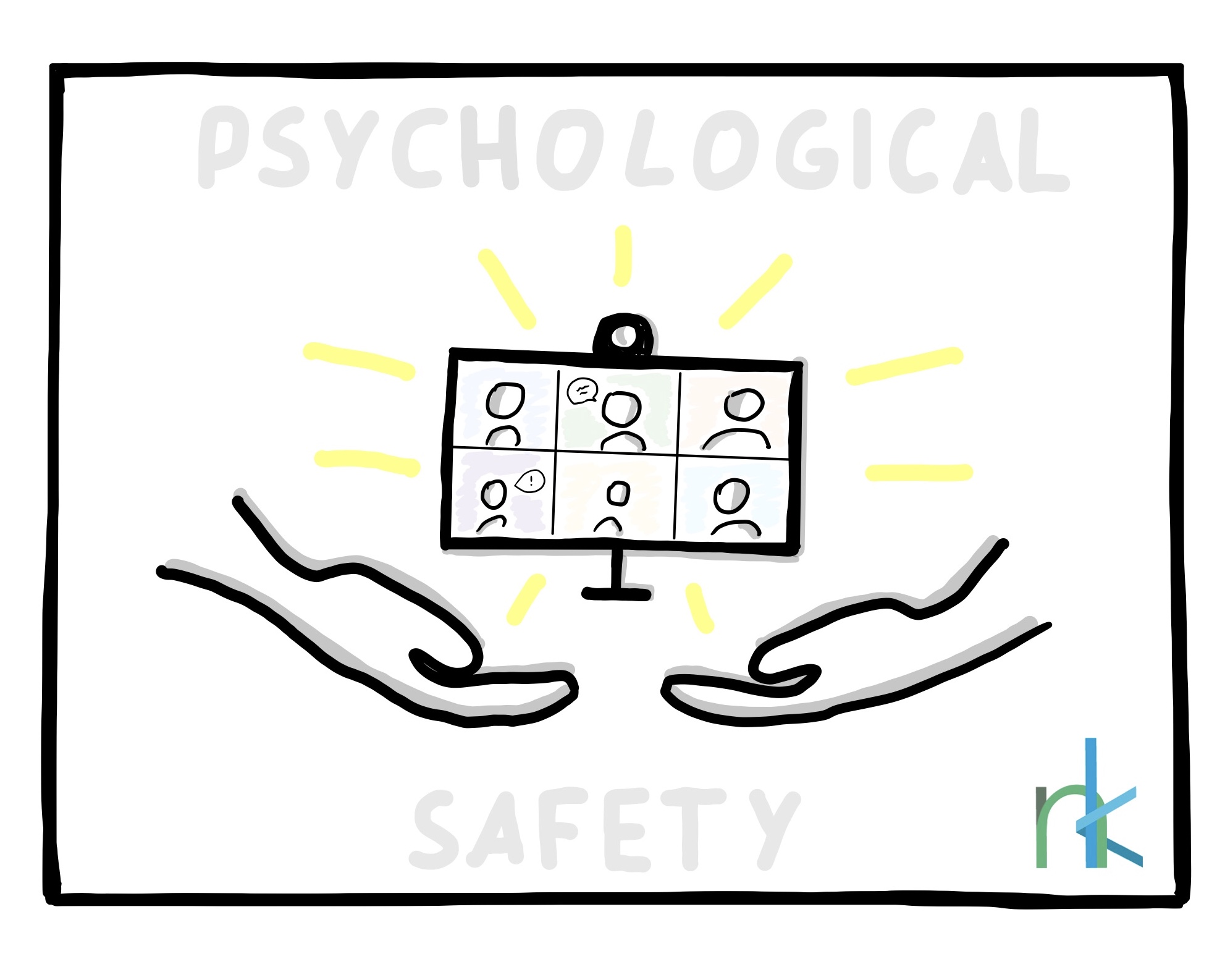 In remote meetings, it is just as important to create a familiar and productive working atmosphere, i.e. to enable psychological safety. In the current time we observe many people in the customer system who feel more insecure with exactly this role than they did a year ago. Through the numerous experiences that we have made as process facilitators and also as participants in offline and online meetings, we have acquired a wealth of knowledge, from which I now have 10 tips on how to implement it.
Read more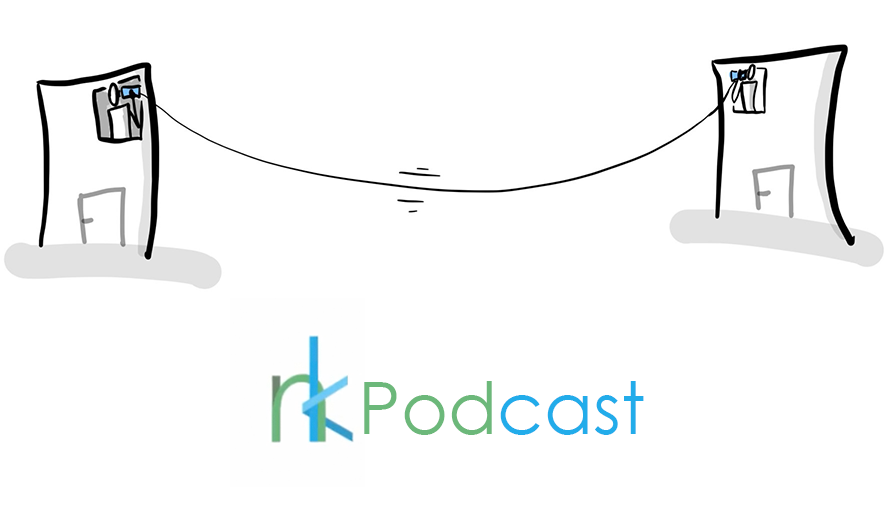 This week I was a guest at the Gerlent Podcast and was able to present our knot template (Remote Edition) for collegial expert advice and bring it closer to the audience.
We also talked about designing remote workshops. How can you integrate settings from the offline world of workshops into remote work.
Very exciting topics - but hear for yourself!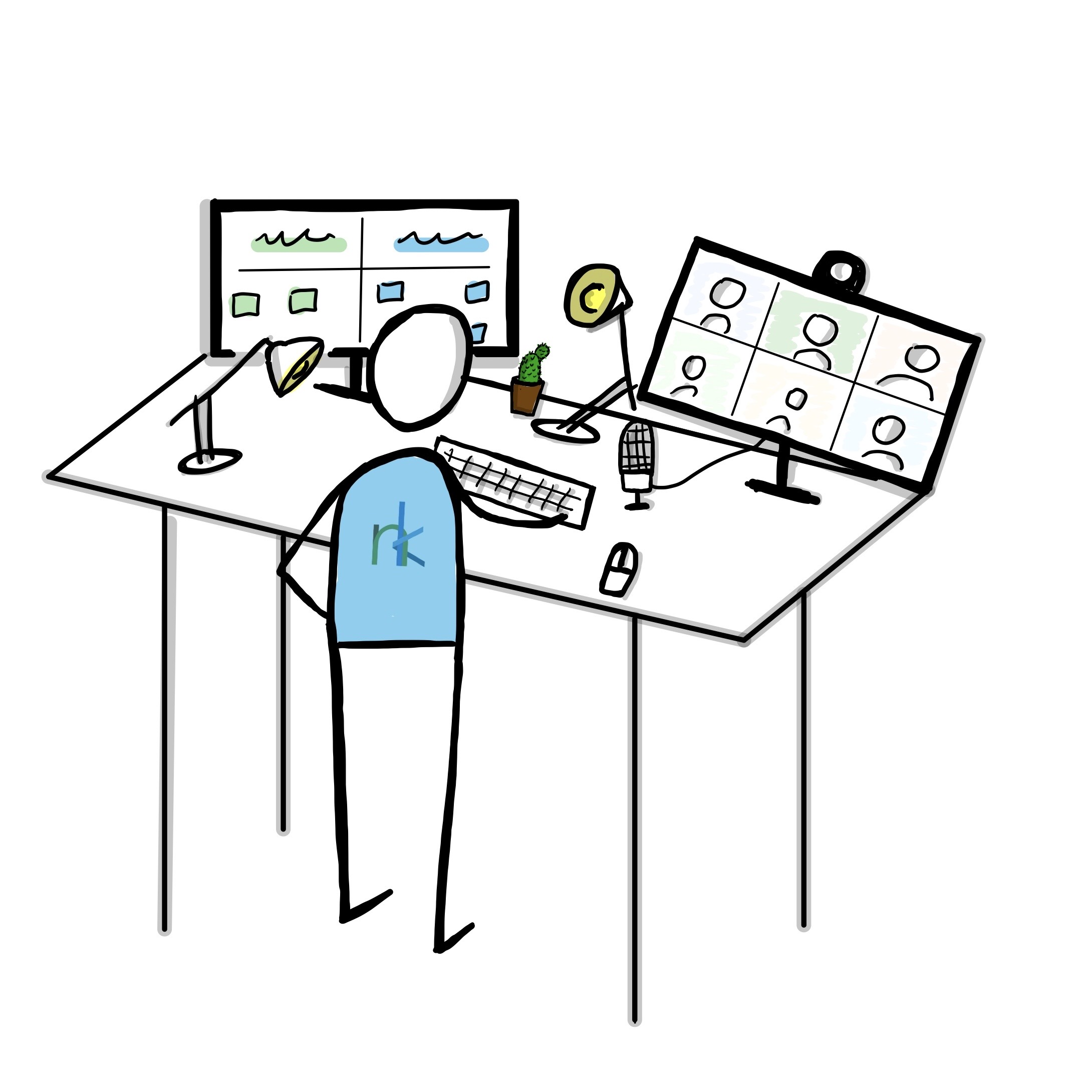 As a facilitator, I prepare in-person workshops in many ways, some ways are more deliberate, some less. For example, I think about how the room looks like, the layout of the chairs or tables if any. I make sure that we have enough whiteboards, posters, sticky notes, and pens for everyone to work within the chosen methodology of the workshop setting. I think about the agenda when to take a break, the outcome of the workshop and many more.
Nevertheless, I have observed that there are some other things that I don't intentionally think about, but that help me set the stage of the workshop:
Let's, for example, think about a workshop within the office building of a client. The participants arrive early, go to their desks, hang their coats and get a cup of coffee. They already start chatting with one another about the weather or even the upcoming workshop. They walk past the big meeting room, maybe see me, as the facilitator going through my notes for the last time and see that the layout of the room is different than usual. Someone has already taken a seat or has just put down their notepad on a chair to reserve a good spot ...
«Deliberatelyset the right stage for a remote workshop, before the workshop has even started »
One can say that most of what I have described happens automatically but all of it is part of the workshop design and helps set the stage for a productive session, and of course all of them I can deliberately think about. In the following I would like to share with you five tips for being able to exactly enable those emotions in remote settings. Most of it happens before the whole session has even started.
Tips for how to set the stage for a remote workshop
Tip # 1: Prepare the digital whiteboard*
Although I know that you are preparing the actual workshop anyhow, I recommend doing this at least three to five days before the actual workshop, not just for personal preparation but also for sending it to the participants beforehand (see Tip # 2).
Have a clear visual structure, in most cases arranging everything from left to right simple does the trick and clearly make the starting point on your vast whiteboard. This will make it easier for the participants to follow you along and navigate on the digital whiteboard during the workshop.
I already include a tiny exercise for the participants in this pre-workshop information message. I prepare an area on the digital whiteboard, upload a personal picture of me and share some fun facts about me in the line of 'what my first job was' or 'which secret skill I have', and ask the participants to do so, too (also see Tip # 2). This requires everyone to check out the tools that will be used and gives me the confidence that everyone has already opened them before the workshop. This saves time for the actual workshop and is a good starting point for the entire workshop as a check-in (see Tip # 5). Thereby, you also provide the participants with your contact details early on, if they have technical difficulties or anything else.
And don't forget to lock all the elements on your whiteboard that you don't want your participants to edit, move around, or delete.
Tip # 2: Send out onboarding email**
Take the time to prepare an onboarding email for all participants including the workshop schedule, explaining the tools that are going to be used, and prompting the participants to set them up - this saves time for the actual workshop and simultaneously the participants already started to think about the upcoming remote session. Sometimes it is good to send out a little last-minute reminder one or two days before the workshop as well.
Additionally, you can ask them to have some snacks and drinks around. If the workshop budget allows it, you might also consider sending them to their homes.
Tip # 3: Be prepared
Don't think you can solve a technical problem on the spot. Be prepared. Think about some possibilities that could happen and what you can do to solve the issue when a technical problem arises on your side or with one of the participants, like having an extra pair of sticky notes or pens in your bag. If you can, have a colleague as a technical co-host nearby in case there are issues to be solved along the way - especially if it comes to sessions with more than 20 participants.
Most providers enable anyone to either participate via a computer or the mobile phone or even to dial into the call. The latter two situations still require you to be able to have an idea, how to include them easily in the entire workshop.
Tip # 4: Get on the call early
Go online at least 10 minutes before the remote workshop officially is about to start, in order to welcome the early birds and already start chatting with them a little bit, just like in an in-person workshop setting.
Tip # 5: Get people talking
Think about someone who lives by him- / herself and is about to attend your 9 am 'Design Sprint'-workshop. He / she might not have talked with anybody yet when the webcam turns on, as he / she didn't have her commute, the little exchanges about the weather while hanging her coat, or the chat at the coffee machine in the office kitchen.
Here you can make use of the pictures and the personal information everyone has already provided (see Tip # 1) or use an open Check-In / Icebreaker question to help everyone arrive in the remote setting.
I have made good experiences with groups of up to 10 people to let everyone speak at the beginning of my sessions to establish a room of safety and give the opportunity to bring awareness to the group. The bigger the group gets the least likely it is to give everyone time to speak. Instead, I like using tools such as menti me ter .com that also help to connect the participants and bring focus to the upcoming workshop.
All five tips serve the goal to make the participants feel valued, both for their time and participation. This provides an ideal foundation to facilitate a remote workshop with high levels of energy and engagement in which the participants feel that their time and input are valued. Creating an environment that is conducive to focus and concentration.
What other tips do you have for preparing remote session? What challenges have you had? I'd love to hear from you. Please do not hesitate to reach out if I can help you prepare your next remote workshop or meeting.
---
* By far my favorite digital whiteboard tool is miro .com
** Optionally you can also add a little explanation video of the tools needed during the workshop. Only focus on the features that will be needed during the workshop - You are not selling the tools. You can reuse these clips for other workshops of course. I can recommend loom .com for this.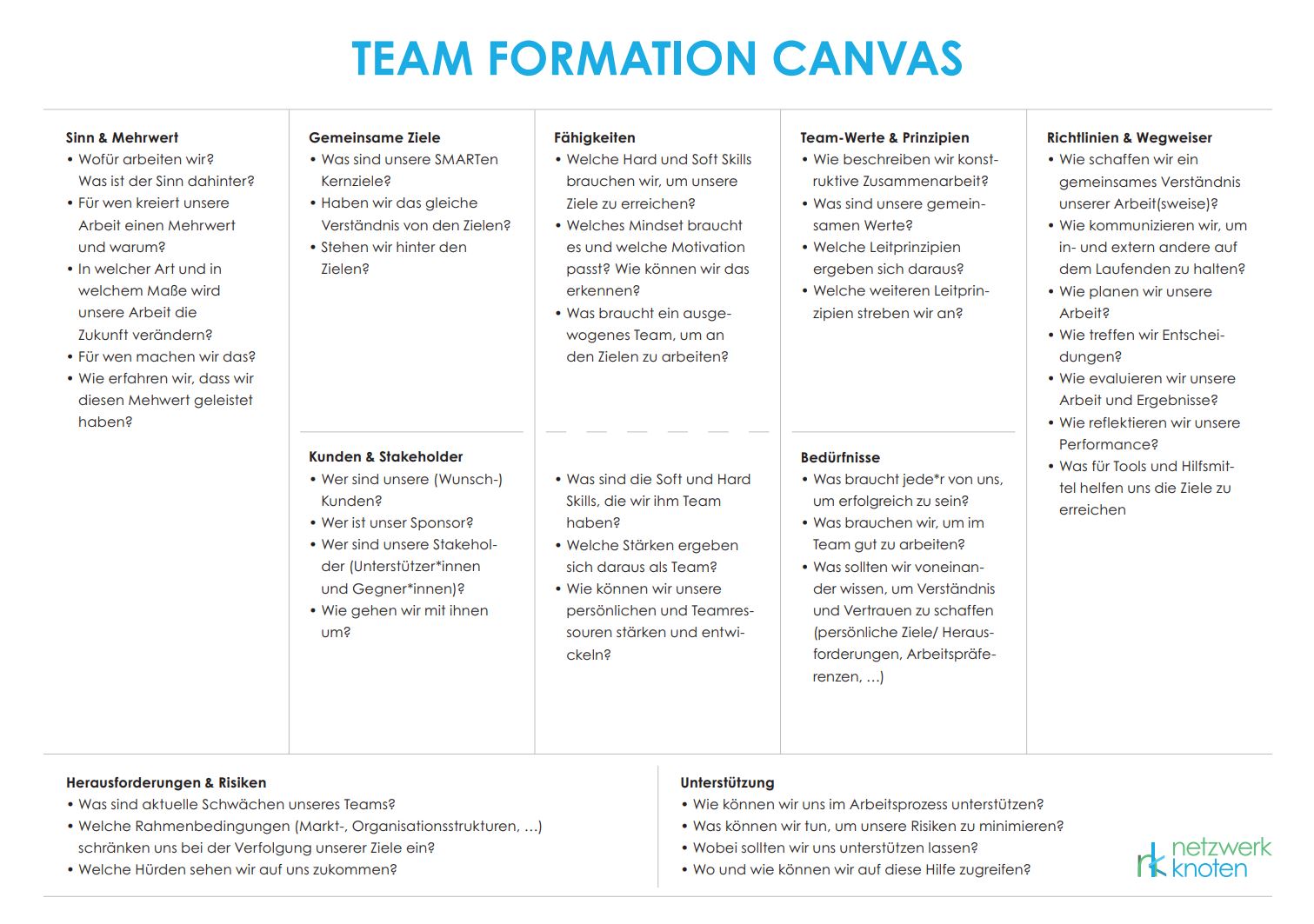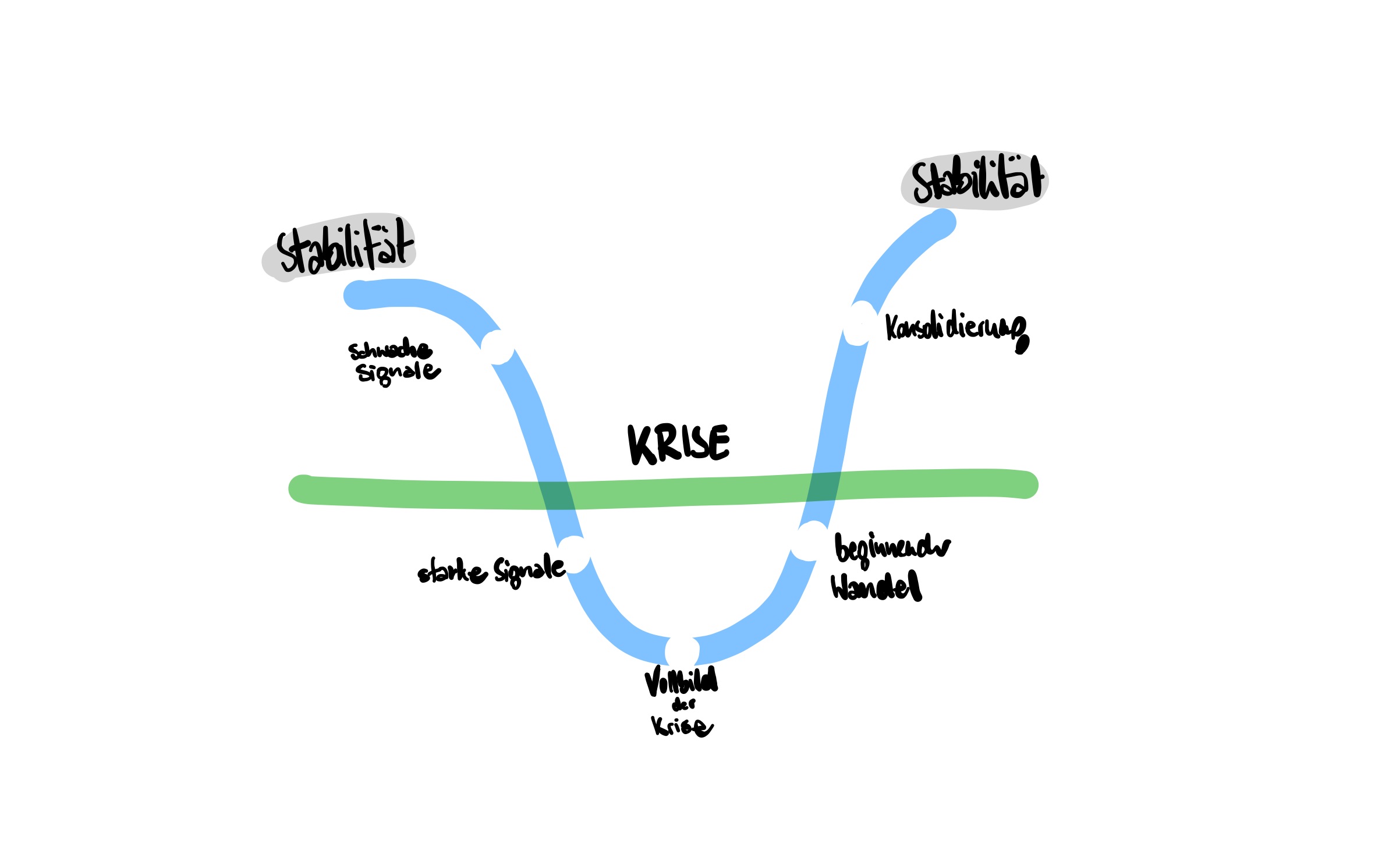 When I first became aware of the term many years ago Organizational development came into contact, the word and what was hidden behind it worked pretty big for me. In the meantime, the importance has not decreased, but at the same time the entry barrier for my work with organizations has become significantly lower with increasing experience. The initially somewhat hesitant "Oh dear, where do I start?" Turned into a joyful "When do we want to start?"
Here I would like to share three highlights from organizational development, which have particularly convinced me because of their good applicability. They are intended to help you better classify the behavior of the people involved and control initiatives more precisely.
Make meaningful distinctions when clarifying the assignment
It's as trivial as it is effective! For example, if the request is: "We have to change something in our corporate culture, please help us." It is very valuable to find out by means of simple distinctions the motivation that led to this desire for change:
"Is your company more likely to be in a situation of security or uncertainty right now?" If the answer is here Uncertainty, is another meaningful distinction: "Is it about ensuring survival or planning further development."
Another distinction, which significantly determines the nature of the order, is the question of whether it is about process support or the development of a concept. Agile coaches often have their own idea of ​​how organizational design shapes and should shape corporate culture. However, if a corresponding concept is not desired by the client, a lot of energy can be saved, which in turn can be incorporated into the design and support of the process.
Noel Tichy's model of the crisis
Noel Tichy's crisis model primarily serves to reflect on how difficult situations are currently dealt with. It describes the availability of relevant information about the extent of a crisis in connection with the profitability of a company. While the individual stations - stability, weak signals, strong signals, full picture of the crisis, incipient change, consolidation and back to stability - should not come as a surprise in this course, the observation is one Particularly valuable in connection with this model from my point of view: The inherent information asymmetry between managers and employees ensures that there are different views of where on this curve a company is currently located.
This in turn can lead to certain behaviors or decisions being classified differently than originally intended. Knowing about this asymmetry helps manage crisis communication. Helpful questions at this point are:
How do I know if a crisis has occurred?
How do I know when the bottom has been reached?
Is dealing with the crisis more authoritarian or participatory?
Which strengths and which weaknesses of the company are strengthened in the crisis?
In order to get the most comprehensive picture possible, I recommend answering these questions from different perspectives, such as employees, management or customers.
Tips for failure in complex systems
I would like to conclude this little digression with five things you can do to definitely fail when working in complex environments:
Refrain from formulating an intention! It will ensure that the people involved will eventually lose their bearings and give up annoyed.
Document everything! Even if it's just your own failure. Better safe than sorry.
Stop talking to each other! When nobody speaks to each other, everything important is only between the lines and that is always interpreted differently than originally intended. A real ace up the sleeve of failure.
Create a culture of fear! Sufficient fear will ensure that nobody feels like bringing up any ideas anymore. Everyone will just do the rule and luckily it is well documented and it also makes it easy to find someone to blame.
Isolate yourselves! The complete isolation will ensure that you neither participate in the current developments, nor can you satisfy the basic human need for exchange and further development.
Should you ever get into the embarrassment of having to do the opposite, you can simply turn these five pointers upside down. If you would like support with this, please contact us.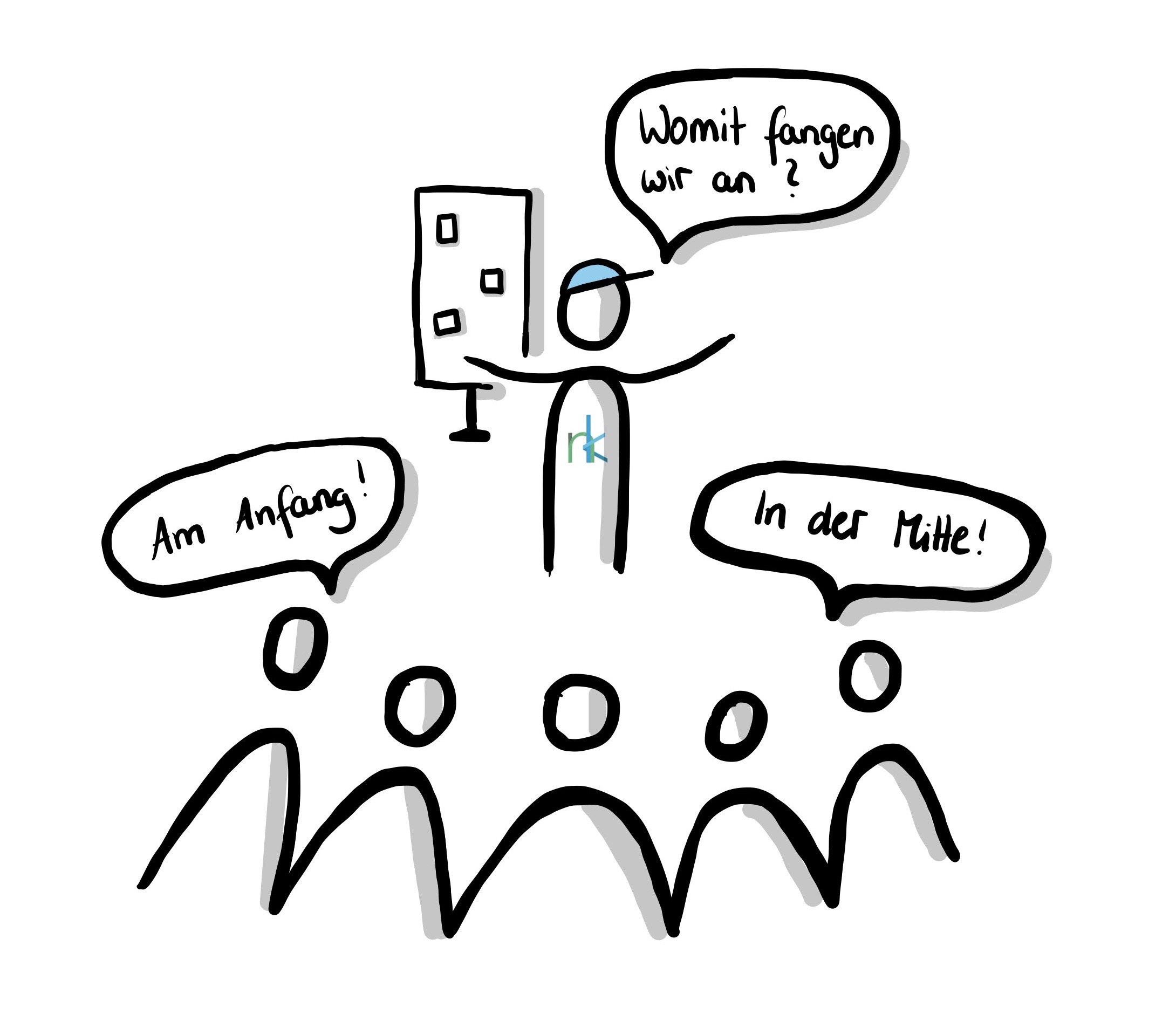 Initial situation
My colleague Lisa and I recently gave a two-day Scrum Master training course, with the little twist that we knew that the participants had different levels of knowledge. However, we didn't know what exactly they looked like or how they differed.
We had a good job clarification meeting in advance, entirely our way, of course, but we also knew that we had to adapt the agenda "on the fly" to the existing circumstances.
Theprocedure / Our approach
At the beginning of the event, on the first day, we asked the following questions and asked the participants to fill out the matrix shown accordingly and then share it with everyone.
Questions:
1. What has to happen so that I go home satisfied and full tomorrow?
2. How do I know that it is fulfilled?
Target image - what is the desirable state?
This lists what each participant would like to be able to do after the event. Often it is a topic-specific challenge from the participants' own everyday work.
What is part of it? What is the content needed?
Here you will be asked what things / knowledge is needed to achieve the desirable state. An interesting point for the facilitator, the ideas / approaches available here often allow initial conclusions to be drawn about the current level of knowledge of the people.
Use - what can I do then?
Here, specific situations and skills are described that can be mastered better or differently with the new knowledge.
What do I need to be able to study well here?
This last quadrant is designed so that all participants can express their personal needs. Also a nice way to sharpen the participants' understanding for one another.
Application in theTraining or workshop
Afterwards, the individual expectations of the participants are discussed openly in the plenary and dealt with in the sense of expectation management. Requests that are mentioned, but from a didactic point of view still cannot be accommodated on the day, are made visible and can be addressed directly and explained by us.
We can already give a small outlook on other topics that are desired and also dealt with by us. The participants also have the opportunity to find out what the other colleagues are particularly interested in or what is important to them in order to feel good.
If there are topics that are desired by a particularly large number of participants and are not yet included in the original agenda, these can be considered for the next day and then worked on.
For facilitators who are a little less experienced, it can be helpful to send this matrix to the participants in advance in order to get to know the expectations at an early stage.This saves some time in the actual workshop and allows the trainer more preparation time to react to expectations.
This structure helped us a lot to get a more precise picture of the initial situation of the participants and to adapt our agenda accordingly. In the end, we left the training with very satisfied participants and one method richer.
TIP for advanced users:
In a further quadrant in the middle of the matrix, by providing examples, you can ask which learner type the individual participants are most likely to be in. If there are a particularly large number of visual learner types, the teaching can be adapted accordingly and a particularly large number of diagrams can be used.
Visual learner type
The visual learner learns best through sight. Pictorial representations, charts, visualizations and graphically structured learning material support his learning process.
Auditory learner type
Hearing is the preferred channel of perception for the auditory learner. Lectures, verbal explanations, reading aloud and verbalizing help him learn.
Haptic learner type
The haptic learner learns particularly well through touch and practical action. His learning success is greatest when he can grasp content with his hands and be active himself. Movement also helps him learn.
Communicative learner type
This type of learner learns best through communication and exchange with others. Explanations, questions, your own lectures and discussions achieve the best learning results with him.
Source: https: // www .tuto ria .de / s c h u l e - r a t g e b e r / l e r n t i p p s / l e r n t y pen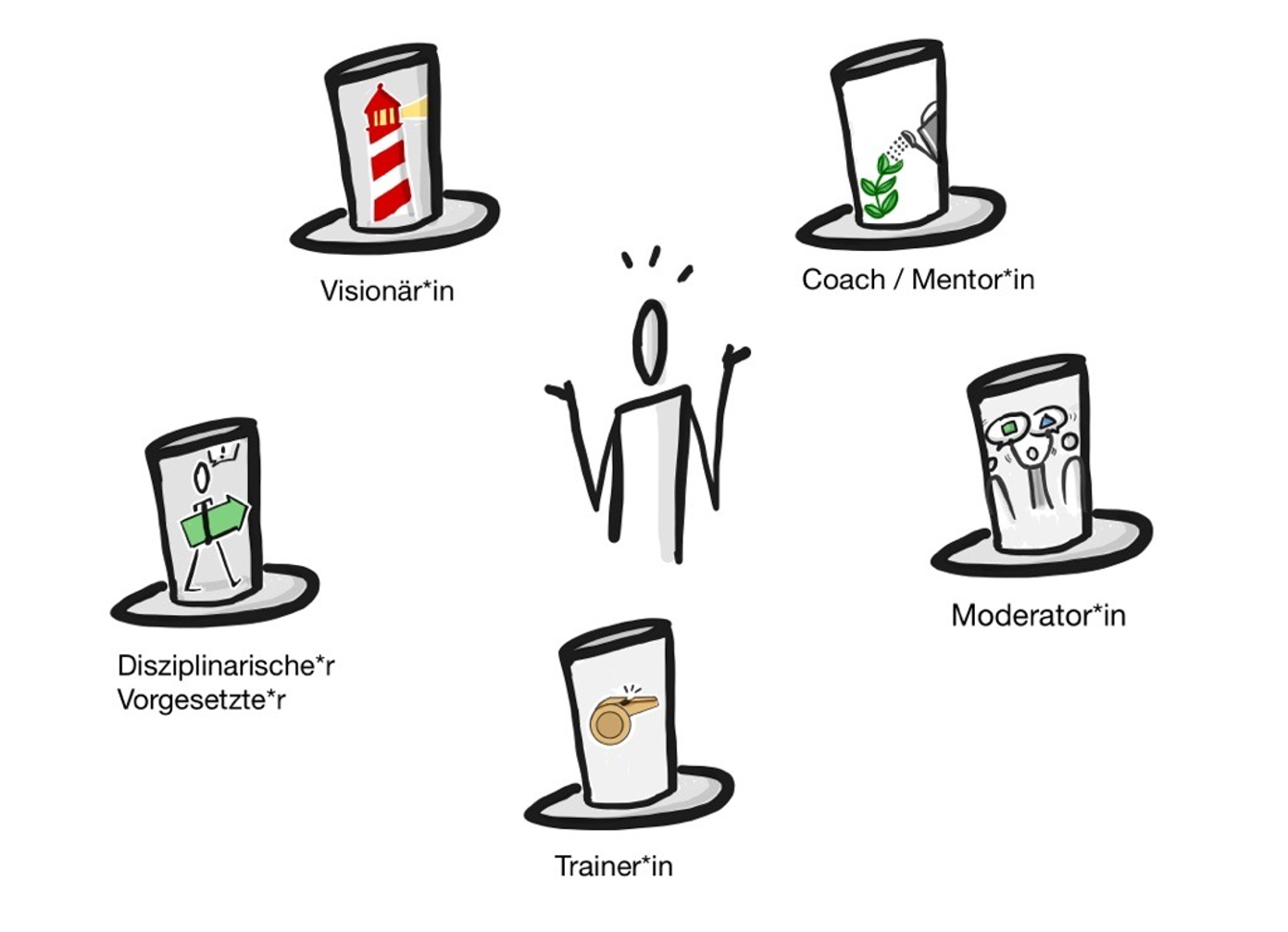 In addition, it should be mentioned that we as humans can of course never just wear one hat, but that these characteristics are always in us in various proportions. However, it helps to be aware of the differentiation and thus to be able to meet your employees in a more targeted manner.
Read more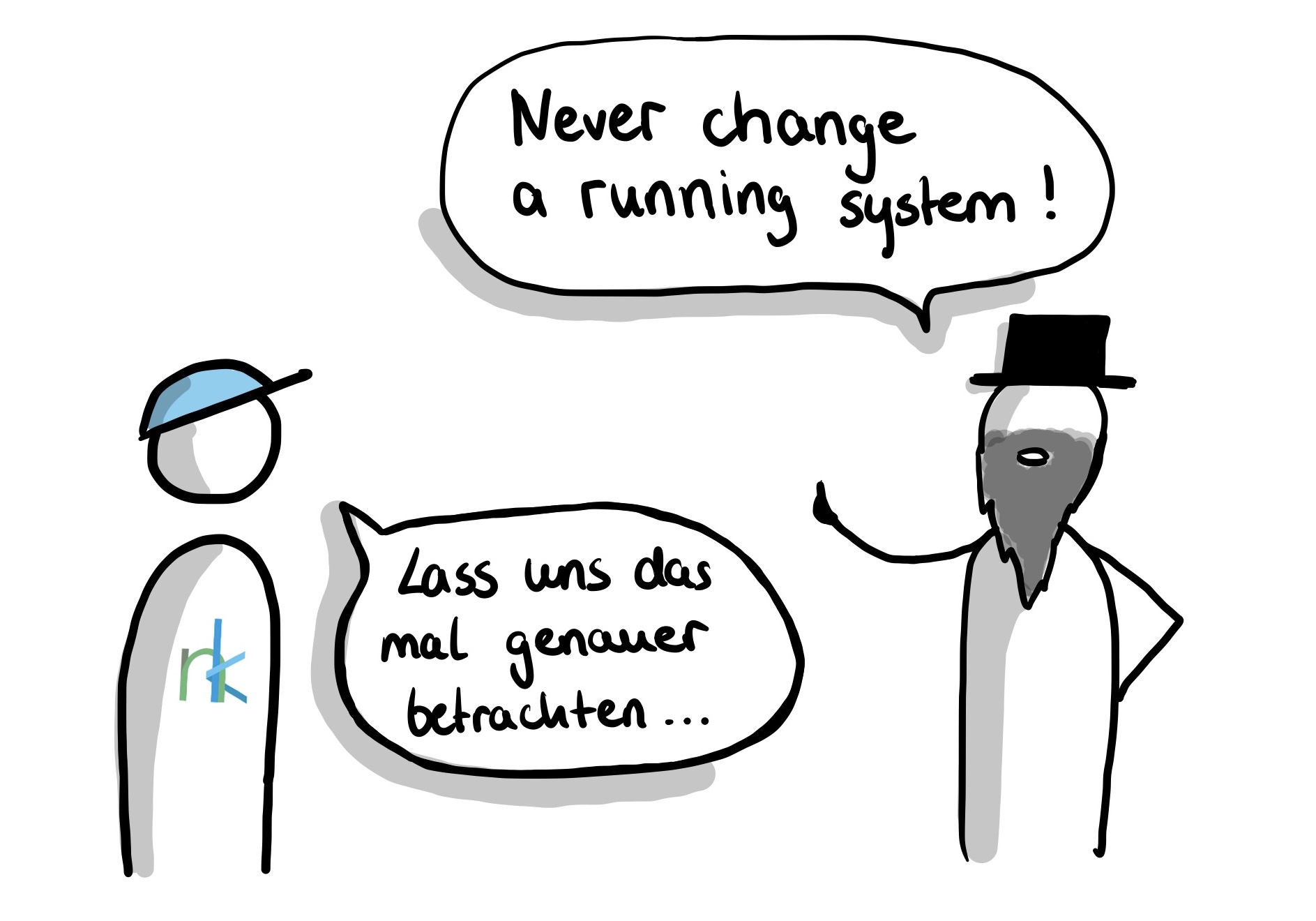 Humans have created many ways to legitimize themselves, not having to change a process, or an action. Popular representatives of this category are sayings such as: "That may be true, but no, it doesn't work.", "I've never heard that before! Is this a newfangled trend that everyone is chasing after? Ah no, I don't do that! "Or" I've always done it that way. You know: Never change a running system! ". The latter in particular caught my attention in a conversation some time ago. What exactly do you want to say to me? Is that really a fact that has been proven over generations and that is brought to me there? Has there now been another moment to pause, in which I reflect and refer to old patterns or should I be questioning everything that has been tried and tested right now?
The pseudo-Anglicism was invented by people from the German-speaking area and is linguistically and in terms of content to the big original English-speaking brother "Never change a winning team." And the big sister "If it ain't broke, don't fix it." ajar. The alleged wisdom means something like: As long as it works and is not broken, let it run and do not change anything for the time being. Immediately something inside of me rebels: That is such a general and absolute statement - it screams afterwards to be examined more closely.
What stumbling blocks do we find in the statement?
Let's start with "change". What does it mean to change something? It is important to distinguish exactly whether you want to optimize something here, i.e. make small changes to the existing, in order to achieve an improvement in overall performance, or whether you intend to fundamentally redesign something. The effects of the latter are understandably much more profound and all-encompassing. A good example of this differentiation is our school system, because here optimizations have been made to the process for years: curriculum adjusted, new subjects born, old ones put aside. Sometimes optimizations alone do not bring the desired results, which is why the entire business model needs to be changed, e.g. in some companies plans to convert to cross-functional teams are brought into being and implemented. Such drastic changes are best achieved with appropriate support, i.e. experts who are very familiar with change processes and know which methods help to support cultural change.
On the other hand, what does it mean to have a "running system", ie a functioning system? In our context as management consultancy, a system is a theoretical construct that consists of relationships, actions and the communication generated by the people who make up this system. This means that different people with their different attitudes, opinions, experiences, etc. contribute significantly to ensuring that the system is the way it is. At this point it is noticeable that systems basically always work, because even if there is, for example, unsatisfactory communication for some participants, in some way, be it verbally, with gestures and facial expressions or even abstention, people will always communicate with each other. So the better question is about the effectiveness of the system at hand.
Is it now a legitimate explanation or an excuse?
For most of those involved, changes initially mean the feeling of a loss of control. However, it is one of the tasks of our brain to adapt quickly to changing circumstances; our ancestors needed this ability as much as we do today. What I mean by that is: We should learn again to better utilize this psychological effect and trust that this feeling of insecurity and fear of change will subside.
If there is a flow, i.e. a smooth course of action, with which all colleagues are familiar and satisfied, there is no added value to dissolving this sensitive construct through an unjustified structural restart. However, it is very important to examine exactly how the inner and outer perspectives differ. For example, one team can be very well-rehearsed, but very ineffective, or another has internal discrepancies and still delivers all the desired results.
The goal is crucial
A precise target setting and regular retrospectives, i.e. reflections with everyone involved, are good approaches to keeping an organization or team effective. As a result, people are also heard who know each other, their expertise and their work preferences. The satisfaction and motivation of the employees, who now have to adapt or change their entire procedural patterns, lists of priorities and wishes, can only be maintained if the initiators of the change have dealt with whether it is necessary to intervene actively and, if so, where it should go. It is therefore essential to share together why a change is worthwhile, what exactly you want to achieve and achieve and, accordingly, what alternatives there are, what possible target images look like and how it should be approached: optimization or complete system restructuring. A clear picture in front of your eyes also helps to communicate this idea and to win those involved for the change.
Nowadays the term change management is on everyone's lips and of course the concept behind it offers many possibilities. Despite all the chances, we do not appeal to the network node to follow any general recommendations. Every system faces individual challenges, which is why tailor-made solutions are required. "Copy and paste" in this context rarely works and endangers employees, the product and the company. Modernize your company, step out of the role of a spectator and become a designer. We are happy to support you!
---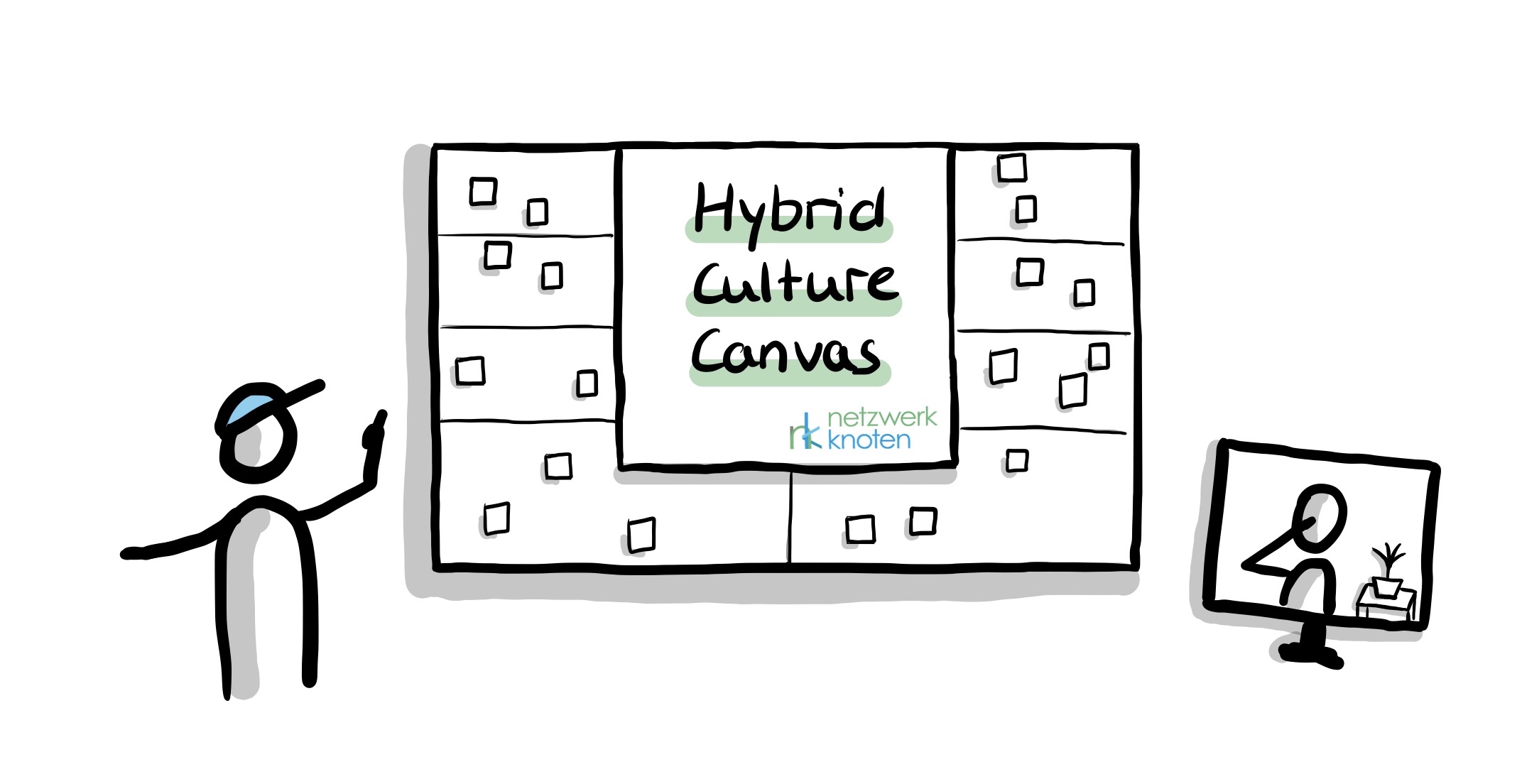 If, however, it is not just a temporary phase that is then "reversed" again and allows us to return to our old "normal", how do we deal with the points that we now miss so badly and that actually also Are part of our corporate culture, our togetherness and part of my very personal needs and motivators?
Read more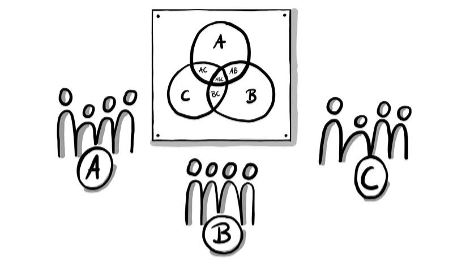 In this article I would like to bring you closer to a method that was developed in a brainstorming session with my colleague Lisa. It increases the understanding of working teams, individuals or entire departments for one another. As a further result, a backlog is created with topics that these teams can tackle together. Often it is topics that make difficulties in the system visible. For this article, I'll use the example of three teams.
Challenge: better understanding shared responsibilities
A customer asked me to accompany three teams that were newly created due to restructuring and that had no real team lead.
Among other things, it was about understanding the responsibilities, challenges and, to a certain extent, the identities of these teams. Not only for me, but also for the teams among themselves. This is how the idea for this method came about:
Five steps to a common backlog and better understanding
1. Self-awareness