Shift work is hectic in IOCL
Opinion: On the failure of the reformers
A registered letter from the tax office or a call to the tax office for criminal tax matters (.... yes, there is such a thing) can trigger hectic activity in sports clubs. And sleepless nights on the boards. A back tax payment is the smallest evil, even if the association does not have the money. What will happen to the public benefit? What do the other members think? And am I - as a personally liable member of the Board of Management - maybe already in court, if not with one leg in jail? So it is on a small scale.
Keep Calm?
The leading figures in the German Football Association (DFB) are likely to have reacted a little more relaxed to the raid on Wednesday. They're used to trouble, most of them have good lawyers. One of the personalities in whose private home the raid took place on Wednesday was even once Justice Minister himself. Keep calm, all known stories, nothing will happen.
It honors the still quite fresh DFB President Fritz Keller that he pointed out in his statement that he first had to get an overview. And that he - and that brings us back to the usual reflexes - promised the tax authorities and investigators at the public prosecutor's office extensive cooperation.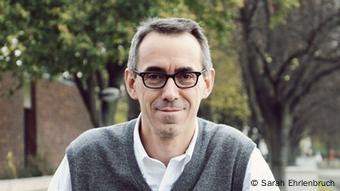 Marko Langer, DW author
Keller started in September 2019 to steer the DFB back into calmer waters. Just a few keywords: the predecessor that accepted this expensive watch. The 6.7 million euros, which not only spoiled the summer fairy tale, but also made the former shining light of German football almost a non-person. The dispute between professionals and amateurs. The multi-million dollar and - as it turns out more and more - burdened with many strategic problems (boring) DFL. And and and.
Keller will be thoughtful by now. And maybe he remembers how his predecessor Wolfgang Niersbach started out. As a sports journalist, not a professional official, he too started out unconventionally. There were also many hopes associated with his person. Today Niersbach will be happy about the statute of limitations in Switzerland and about every reproach that can be cleared up. Such a retired sports manager can only be partially imagined as a happy person.
One law firm, the next law firm ...
As the example of the DFB shows once again, in these times of multi-billion dollar business professional sport, it is a Herculean task to rehabilitate, clean up and clear up an association. Under Keller's aegis, a law firm (Esecon) is now trying, among other things, to check what another large law firm (Freshfields) has already ... checked.
No more word
The DFB is not an isolated case. Sebastian Coe, who once started as a reformer at the IAAF World Athletics Federation, is getting increasingly tangled and recently had to watch the discussion about the South African runner Caster Semenya (man? Woman? What?) Discredit the whole organization. In world tennis, the associations ITF, WTA and ATP are warmly disliked, the former ATP boss Chris Kermode, who brought things forward for the male professionals, was removed from his post with the active help of Novak Djokovic. It is difficult to describe the DOSB as a center of reforms when a non-association manager like Michael Mronz is pushing the next Olympic bid for Germany. Which brings us to the IOC. And that's a good ending to this comment: IOC and reforms? No more word.