What is your mortal moment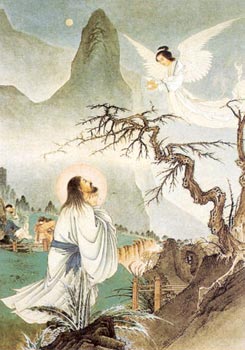 Way of the Cross - 20th century
Archivi Casa Generalizia S.V.D. - Rome
FIRST STATION
Jesus' fear of death in the garden of Gethsemane

V /. Adoramus te, Christe, et benedicimus tibi.
L. Quia per sanctam crucem tuam redemisti mundum.

From the holy gospel according to Mark. 14, 32-36
They came to a property called Gethsemane and Jesus said to his disciples, "Sit down and wait here while I pray." He took Peter, James, and John with him. Then he was seized with fear and anxiety, and he said to them: "My soul is grieved to death. Stay here and watch! "And he went a little farther, threw himself down on the ground, and prayed that the hour would pass him if possible. He said: "Abba, father, everything is possible for you. Take this cup from me! But not what I want, but what you want should happen. "
CONSIDERATION
Jesus was seized with fear and anxiety and was grieved to death. He chose three companions, but they soon fell asleep. And he began to pray - alone: ​​"If this hour could pass me by, take this cup from me ... But, Father, your will be done."
He had come into the world to do the Father's will, but he had never felt the bitterness of sin as deeply as he did at that moment, and he felt lost.
In the letter to the Catholics in China, Benedict XVI. to the vision in the Secret Revelation of St. John, in the face of the sealed book of human history, in the face of the »mysterium iniquitatis«Cries. Only the sacrificed lamb can open the seal.
In many parts of the world the bride of Christ is experiencing the dark hour of persecution like Esther once did when she was threatened by Haman, like the "woman" threatened by the dragon from the Secret Revelation. Let us watch and accompany the Bride of Christ in prayer.
PRAYER
Jesus, Almighty God, to whom you have given yourself into weakness because of our sins, you are familiar with the cries of the persecuted; they are the echo of your fear of death. They ask: why this oppression? Why this humiliation? Why this long enslavement?
The psalm words rise in the memory: "Wake up! Wake up!" Why are you sleeping sir Awake, do not repudiate forever! Why do you hide your face, forget our need and distress? Our soul is bent down in the dust, our body is on the ground. Get up and help us! "(Ps 43,24–27).
No sir! You did not use this psalm in Gethsemane, but said: "Thy will be done!" You could have mobilized twelve legions of angels, but you did not do it.
Lord, we fear suffering. We are tempted to cling to simple recipes for success. Give 'that we are not afraid of the fear, but trust in you.
All:
Pater noster, qui es in caelis:
sanctificetur noun tuum;
adveniat regnum tuum;
fiat voluntas tua, sicut in caelo, et in terra.
Panem nostrum cotidianum da nobis hodie;
et dimitte nobis debita nostra,
sicut et nos dimittimus debitoribus nostris;
et ne nos inducas in tentationem;
sed libera nos a malo.
Stabat Mater dolorosa,
iuxta crucem lacrimosa,
dum pendebat Filius.
© Copyright 2008 - Libreria Editrice Vaticana